Traditionally made of natural stone, a staddle stone is a Mushroom or Toadstool shaped pillar/post, used to raise outbuildings i.e. barns and granaries from ground level. This would keep the stored material dry & keep rats and mice at bay. Vermin found it difficult to negotiate the wide overhanging top of the Staddle Stones. Staddle stones have been a feature of the British countryside for hundreds of years.

They are now used mainly as garden ornaments and landscape features. In recent years concrete and reconstituted staddle stones have been available, but we are now able to offer a traditional Staddle Stone, hand crafted by local craftsmen in either Purbeck or Portland natural stone, quarried in the Isle of Purbeck, Dorset.
Don't be fooled by concrete imposters!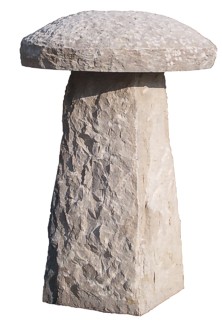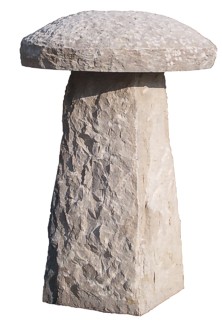 SPECIFICATION:

Overall height inc top - 685mm

Top - 450mm dia x 120mm thick

Base - 565mm high x 260mm x 260mm base, 160mm x 160mm at top

Base & top pre drilled

Cost - £449 each inc vat & delivery to Uk mainland
Pair £798 inc vat & delivery to Uk mainland and £398 each for 3 and more.