Purbeck Crazy Paving [white and random]
---
Specification Sheet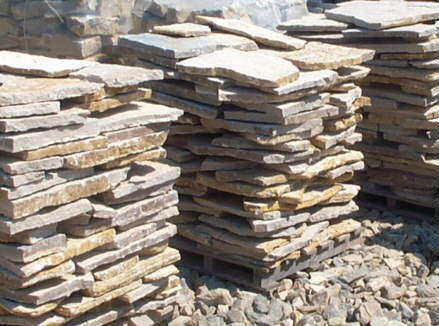 Material - Purbeck Limestone
Type - crazy paving stone
Durability - grade A [BRE269 and BS812]
Thickness - 40 to 65mm nominal
Size - various dependent on bed used
Weight - approximately 8 to 10 sq. metres per tonne at 40 mm
Bedding - dependent on application
Price - dependent on quality, quantity and delivery
Supplied - loose or shrink wrapped on pallets
Colour - available in white, cream or random blue, brown, grey
Finish - riven [sawn is sometimes available]
N.B. white [roach] paving is generally found to have a smoother finish than random.
---
Purbeck Crazy Paving

The following procedures ensure we maintain quality of product.
Quarrying and block selection.
Storing of block to ensure prevention of frost penetration.
Hand selection and splitting of larger laminated stone to provide crazy paving, walling and roofing. Tile and block for splitting on guillotine.
Test for soundness and stack ready for delivery either tipped loose or on pallets for fork-lift unloading.
The terms white and random refer to the local historic names and should not be construed to be absolute in description of colour. White paving is normally derived from the "roach" beds [being the best quality crazy] and it is our policy to put other white beds [such as freestone]in with random paving. You will see that this means that some "random" paving may at all times be white freestone and at other times be blue, brown and grey stone.