J. Suttle Swanage Quarries
---
Panorama Road Swanage Dorset England BH19 2QS

tel: 044 01929 423576 fax: 044 01929 427656
---
Purbeck Dressed Walling Stone

Material - Purbeck Limestone

Type - Dressed Walling Stone

Durability - grade A (BRE269) complies with BS6349 and BS812

Thickness - 150mm nominal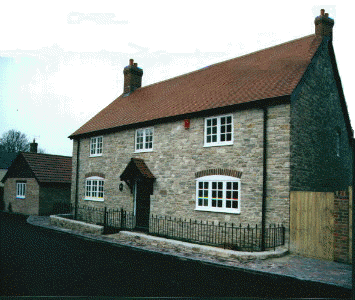 Face size - heights 65 to 250mm - lengths 100 - 350mm
Weight - 4.2 Sq Mtrs to 1 tonne at 150mm nominal bed
Bedding - 1 ordinary Portland Cement to 5 building sand
Price - dependant on quantity and delivery
Supplied - loose or shrink wrapped on pallets
---
Purbeck Dressed Walling Stone

The following proceedures ensure we maintain quality of product.
Quarrying and block selection
Splitting block with the bed to minimum bed height (this avoids splitting when fixed and frost penetration).
Finally prepare and guillotine stone to provide nominal bed width.
Select and hand finish individual stones to ensure rock face (no concave faces) and to ensure that stones are squared by pitching, this avoids twisted stones please note that "hammer dressing" does not achieve this).
Stack stone in 9ft x 2ft walls (called yarding up) to ensure correct measurement. (We convert stone sold by the square metre at point of sale). Again the stacking of the stone provides evidence of the quality of workmanship and should be closely considered.